Spectrix is intelligent lighting for plants
Using proprietary solid state lighting technology and high grade optics, Spectrix delivers the optimal light spectrum at the highest efficiency. The result is better quality crops and more plant mass created using less energy.
Features & Benefits
Adjustable multiband spectrum provides complete plant nourishment
Increase plant growth rate and crop yield
Increase concentration of nutrients, oils, and flavors
Reduce the cost of electricity and cooling
Control Options
Spectral control switch with 5 presets and 2 dimming knobs
Bluetooth/Wifi intelligent spectral management available
Recommended Applications
Indoor (sole-source) agricultural lighting
Greenhouse supplemental lighting
Propagation and tissue culture
Replace high pressure sodium (HPS), metal halide (MH), or fluorescent lights in commercial agriculture and research
Covers 12 to 36 square feet depending on light intensity requirements
Mount lights 18-30 inches above canopy for large plants producing fruits and vegetables or higher for small plants and leafy greens
Compliance
ROHS compliant
UL listing and IP rating pending
Electrical & Mechanical
Input Voltage: 100-277 VAC, 50/60 Hz
Input Current: 1.7-5.8A @ 120V, 0.8-2.9A @ 240V
Power Consumption: 200-700 watts (adjustable)
Total Heat Output: Less than 2,400 BTU/hour
Dimensions: 16.7 x 14.3 x 5.7 in (424 x 363 x 145 mm)
Weight: 23 lbs (10 kg)
Mounting Height: 18-30 in from canopy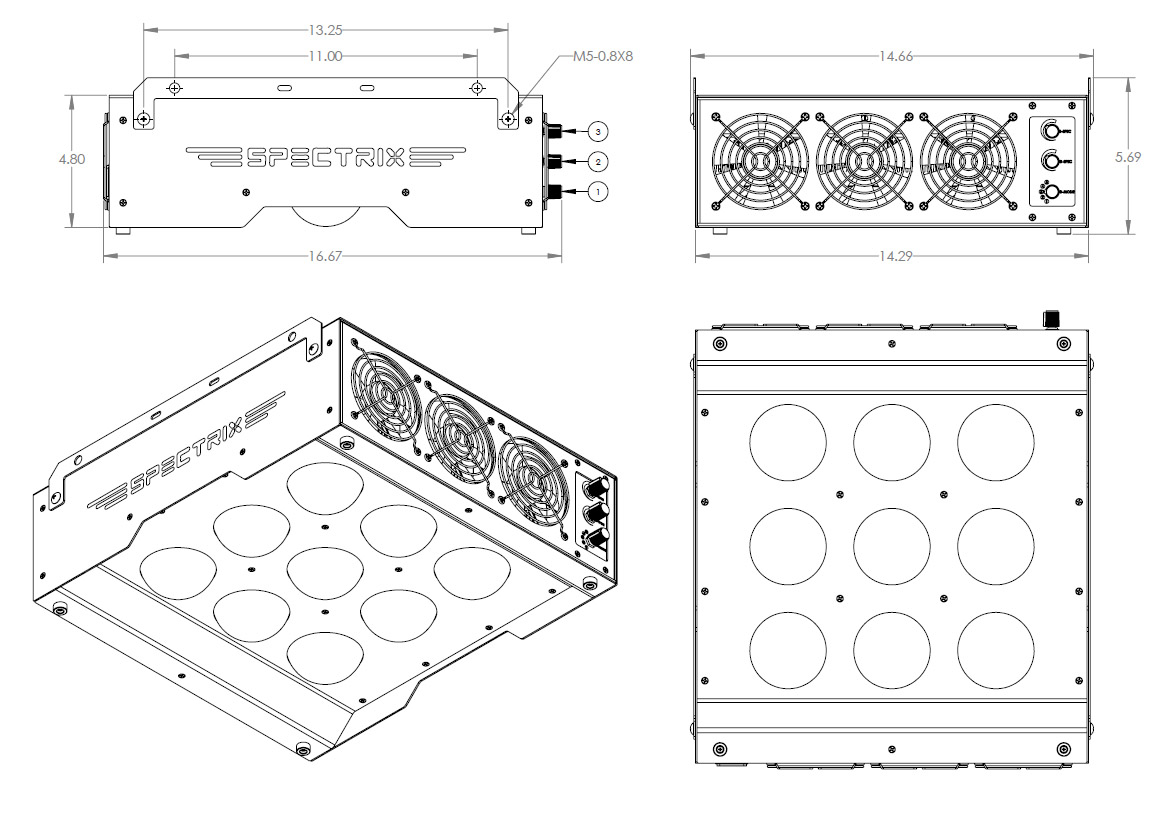 Photosynthetic Photon Flux Density
Photosynthetically active radiation (PAR) is defined as photons between 400 and 700 nanometers. PAR meters do not register photons below 400nm (ultraviolet) or photons above 700nm (far-red and infrared). Spectrix lights produce certain wavelengths of light that are outside the range of standard PAR meters so the actual number of bioavailable photons from Spectrix lights is higher than the data shows.
PAR was measured by Symbiotic Systems with an Apogee quantum meter on a 4 by 4 foot grid 24 inches below the light fixture. Data from other grow lights was measured the same way by growershouse.com and their calculations and spreadsheets were used for comparison. It is important to understand that even though HPS lights score high on PAR meters, the quality of the HPS light spectrum is very low resulting in a stressful environment for plants. Spectrix lights create a superior spectrum that increases plant health and resilience.
PAR data available upon request.
Third Party Greenhouse Trials
PhD Researcher, Commercial Agriculture
Evaluated Early Girl tomato production in shaded greenhouse with light treatments from Spectrix and HPS lights. Planted seedling plugs into 4 by 4 foot ebb and flood trays June 2016, evaluations completed every 30 days.
Average fruit mass produced under Spectrix lights was more than double the fruit mass produced by HPS lights.
Efficiency (grams of fruit mass per watt of energy consumed) with Spectrix was up to three times that of HPS lights.
Spectrix grown tomatoes were voted best in a blind taste test.
Tomato plants produced greater fruit yield at 90 days, grown under Spectrix lighting compared to HPS.
Fruit weight was greatest with Spectrix lights, which produced more fruit per plant at 120 days.
Flower counts at 30 days were greater with Spectrix at 550W, compared to Gavita lights at 620W and 690W
Fruit set per plant at 120 days was greater with Spectrix than HPS.
Additional case studies available upon request.
Someday man will harness …the power of the sun…
-Thomas Edison